Nejame & Sons in the News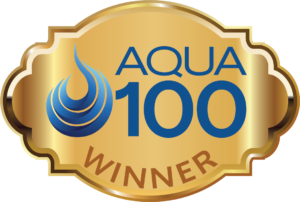 Nejame & Sons is proud to announce it has been inducted into the AQUA 100, an exclusive honor bestowed to just 10 North American pool and spa retailers each year.
The AQUA 100, presented by AQUA Magazine, is an industry-leading competition designed to honor excellence in pool and spa retail. In light of the adversity specialty retailers of all kinds have faced over the past decade — the rise of online shopping, the pressure of a recession — the AQUA 100 honors the diamonds of excellence that have not only survived, but thrived, proving once and for all the spirit of brick-and-mortar businesses will carry on.
"It's quite an achievement to be selected for the AQUA 100," says AQUA Magazine Executive Editor Scott Webb. "This national competition evaluates each business on a variety of measures, and the blind scoring of the judges ensures a truly worthy winner."
The application process was rigorous, requiring entrants to provide detailed information on company history, customer service, store design, digital presence, marketing and community involvement, complete with supporting documents. Applicants were judged by an independent panel of retail experts.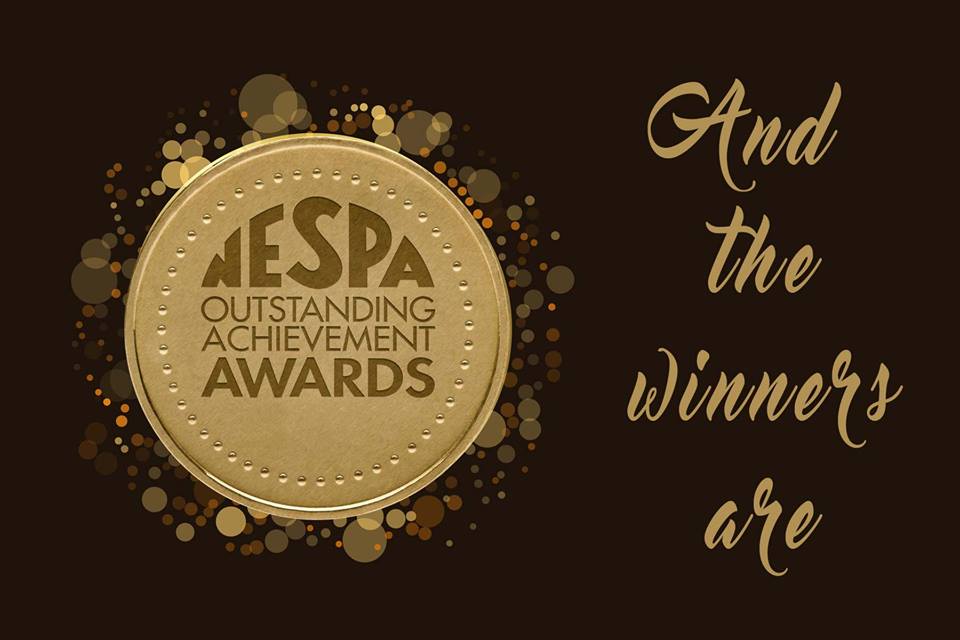 HAMILTON, NJ – The Northeast Spa & Pool Association (NESPA) has recently named its winners in the 2018 Outstanding Achievement Awards – Builders Competition. In the Residential Vinyl-Lined Pools category, local company, Nejame & Sons of Danbury CT has been awarded the Silver Award for their outstanding design of a freeform pool.
The award winners were announced at a cocktail reception held at The Pool & Spa Show in Atlantic City. The awards celebration put a much-deserved spotlight on the amazing building projects and stellar service provided by members of the Northeast Spa & Pool Association. Hundreds of industry professionals came together to raise a glass in honor of these industry leaders.
The 2018 Competition featured over more than four dozen companies who submitted nearly two-hundred entries between the Builders Competition and the Service Competition resulting in 102 awards being given across both competitions' categories. Competition was once again high as these awards continue to be viewed within the industry as a benchmark of professional achievement.
Each pool was judged based on creativity, functionality, project cohesiveness and overall cohesiveness with the environment. The Outstanding Achievement Awards – Builders Competition recognizes NESPA members whose installation of pools, spas, hot tubs and water features represent the best our industry has to offer.
"The caliber of this competition continues to grow each year and it's always exciting to see new companies stepping up to share their work," said Barry Kenny, President of the Northeast Spa & Pool Association. "From the top of the line building projects to the tremendous feedback our service companies receive, this awards program is a chance to put a spotlight on the great work done by our members."
"We are truly honored to accept this award; it's a testament to our customers in trusting us to create their dream pool in their backyard!" –Tom Nejame
The Outstanding Achievement Awards: Builders Competition recognizes NESPA members whose installation of pools, spas, hot tubs and water features represent the best examples of the industry's products. Also, it is meant to provide other NESPA members with inspiration for their own creativity and innovation; therefore, expanding the opportunities for industry members and positive exposure to the public.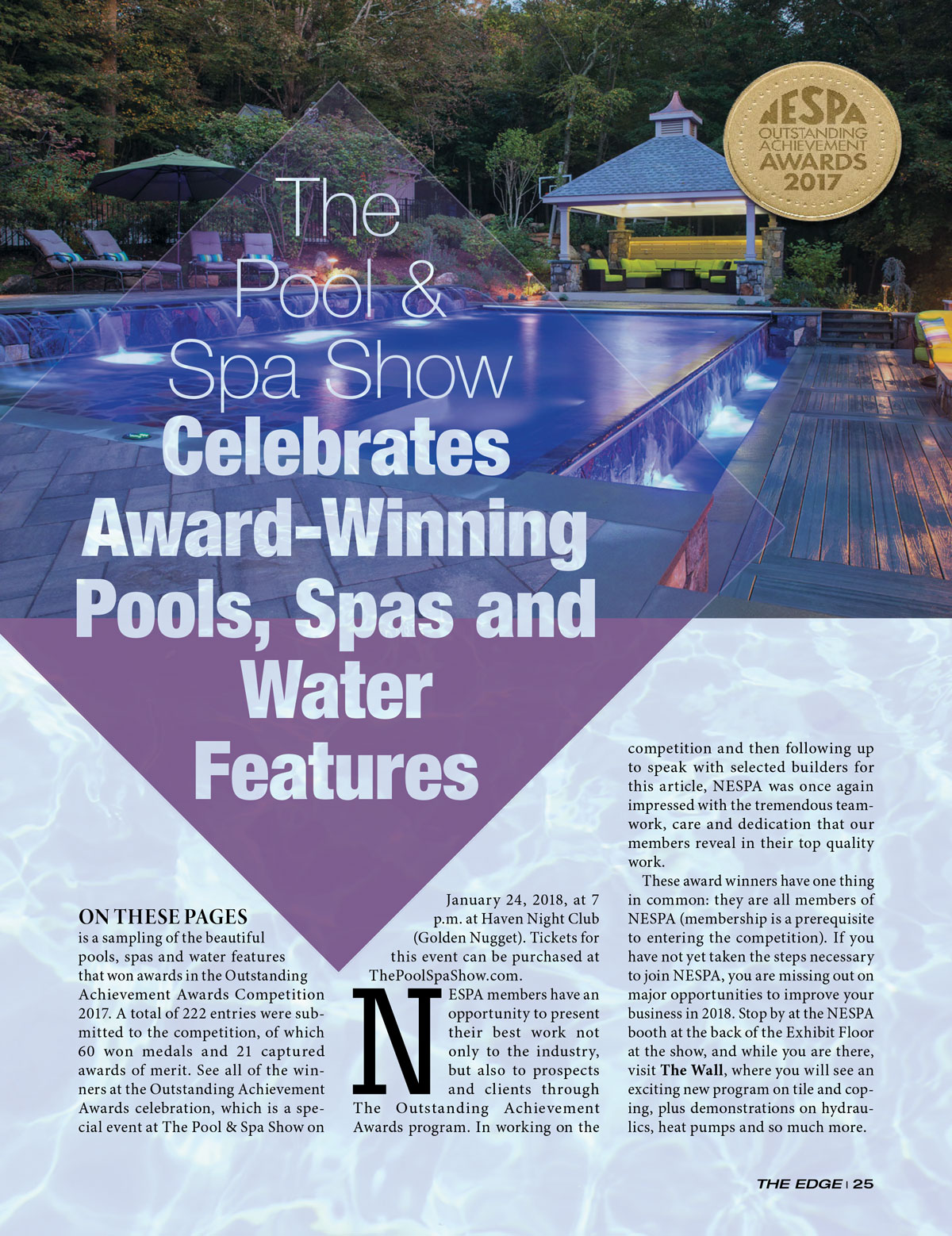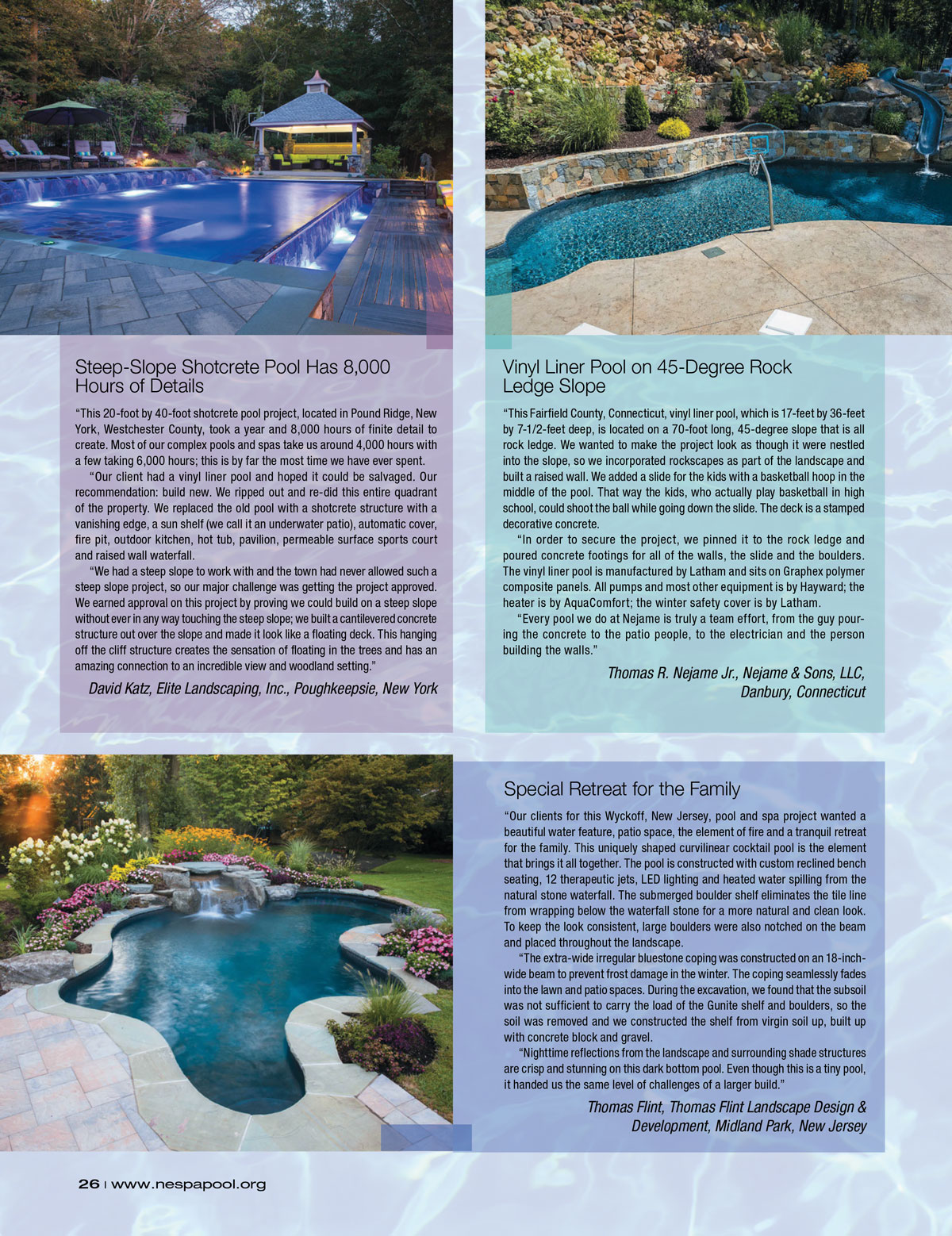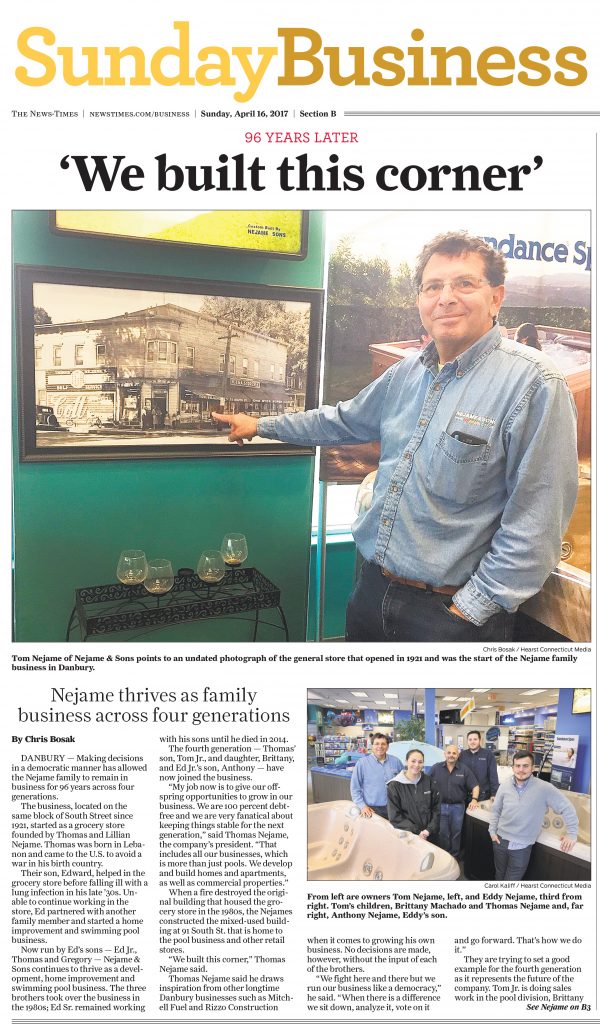 96 years later, Nejame still thrives as family business
Making decisions in a democratic manner has allowed the Nejame family to remain in business for 96 years and four generations.
The business, located on the same block of South Street since 1921, started as a grocery store founded by Thomas and Lillian Nejame. Thomas was born in Lebanon and came to the U.S. to avoid a war in his birth country.
Their son, Edward, helped in the grocery store before falling ill with a lung infection in his late '30s. Unable to continue working in the store, Ed partnered with another family member and started a home improvement and swimming pool business.
Now run by Ed's sons — Ed Jr., Thomas and Gregory — Nejame & Sons continues to thrive as a development, home improvement and swimming pool business. The three brothers took over the business in the 1980s; Ed Sr. remained working with his sons until he died in 2014.
The Edge
The quarterly publication of the Northeast Spa & Pool Association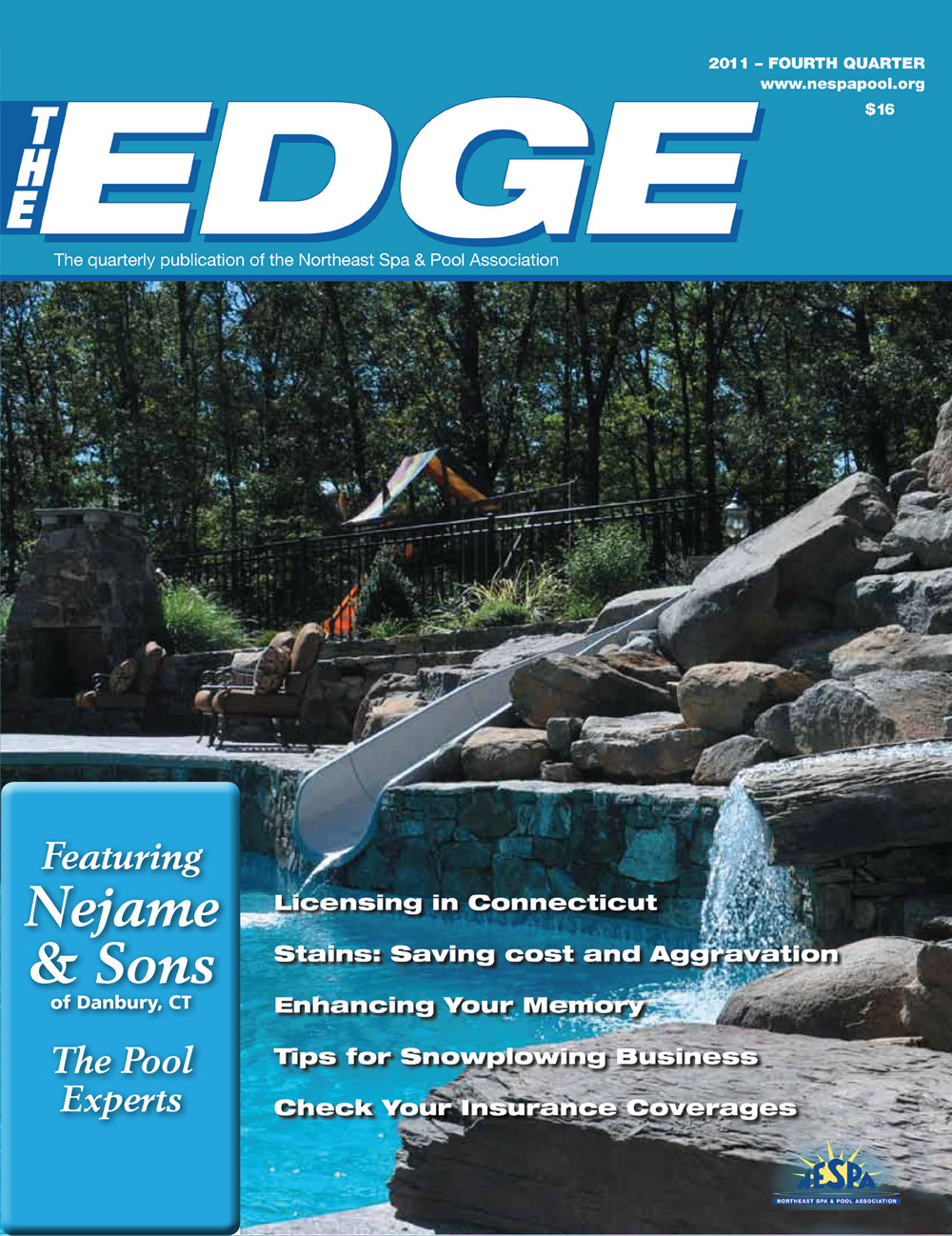 Nejame & Sons
By PSN Staff


203.885.1661
91 South Street
Danbury, CT 06810
President/CEO – Ed Nejame
Total residential construction revenue: $4,050,000
Number of pool excavations: 65
Number of locations: 1
Number of staff:
About
Here at Nejame & Sons, we stand behind our name. We're not interested in riding on other pool
companies shirt-tails. Our primary objective is to support every pool we build or sell, with hard
work and dedication, to the complete and total satisfaction of our customers. We really do turn
water into backyard fun!
A name you can trust! Four generations, over 95 years and the Nejame family is still here at the
same location!
Meet the Company's MVP
Marielys Castillo, Water Lab Manager Customers adore Marielys due to her nurturing nature.
She has been with Nejame & Sons since she was a teenager and has grown personal relationships
with customers. She is always ready to help with any of their needs.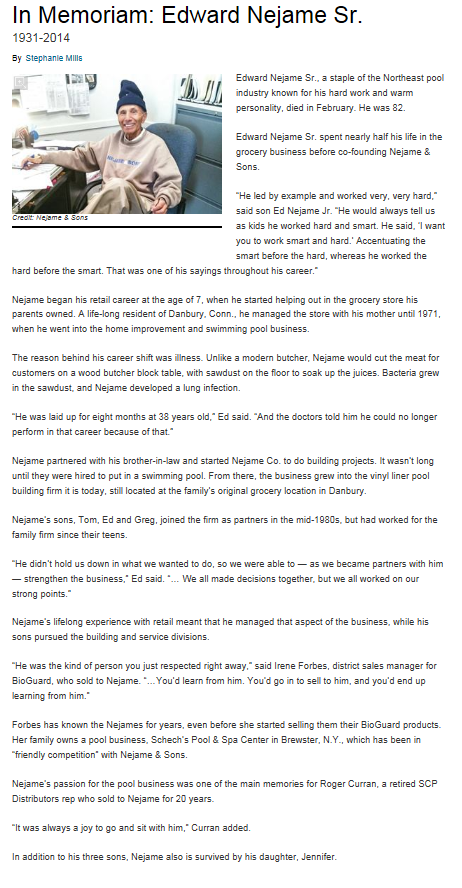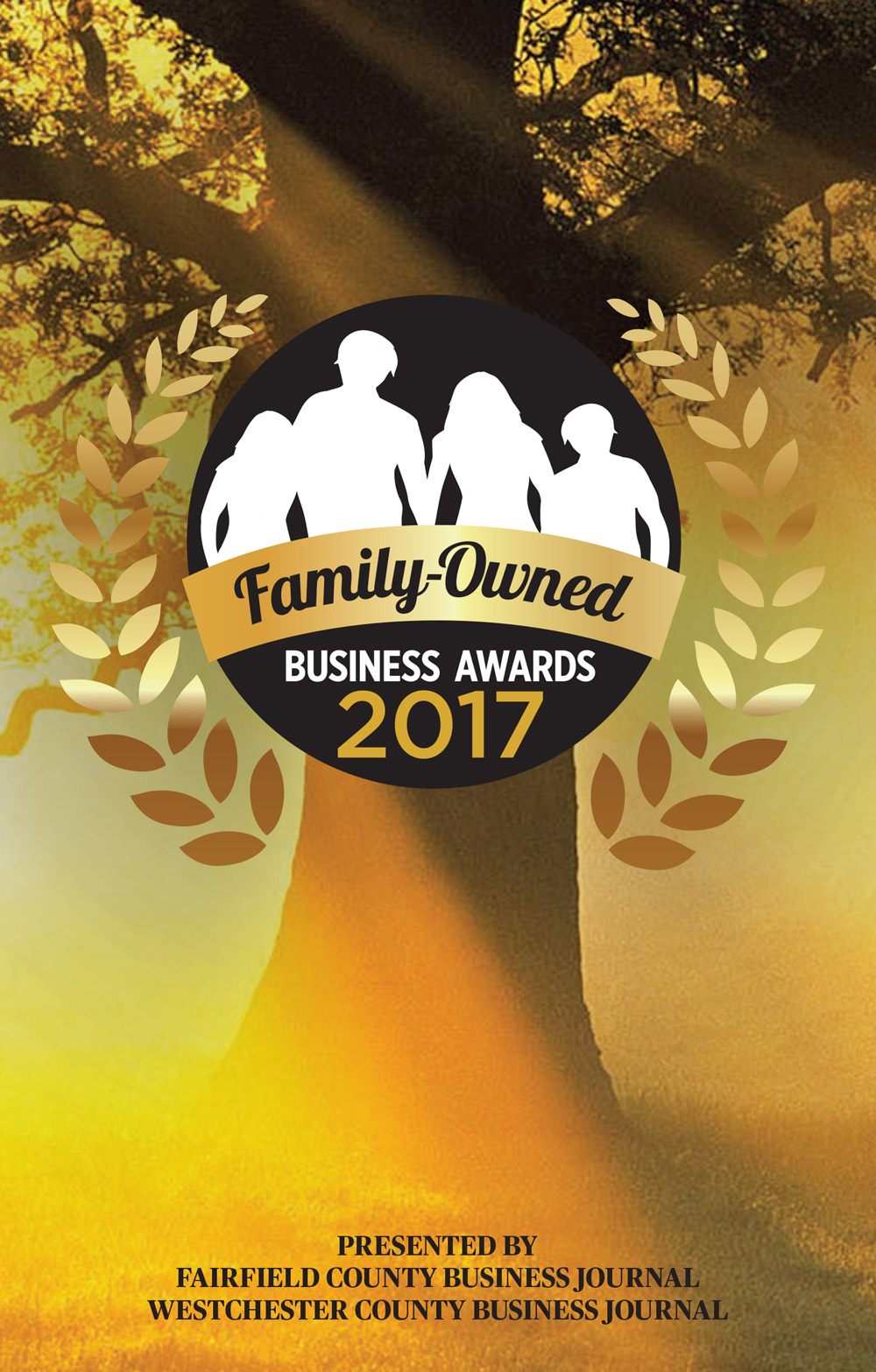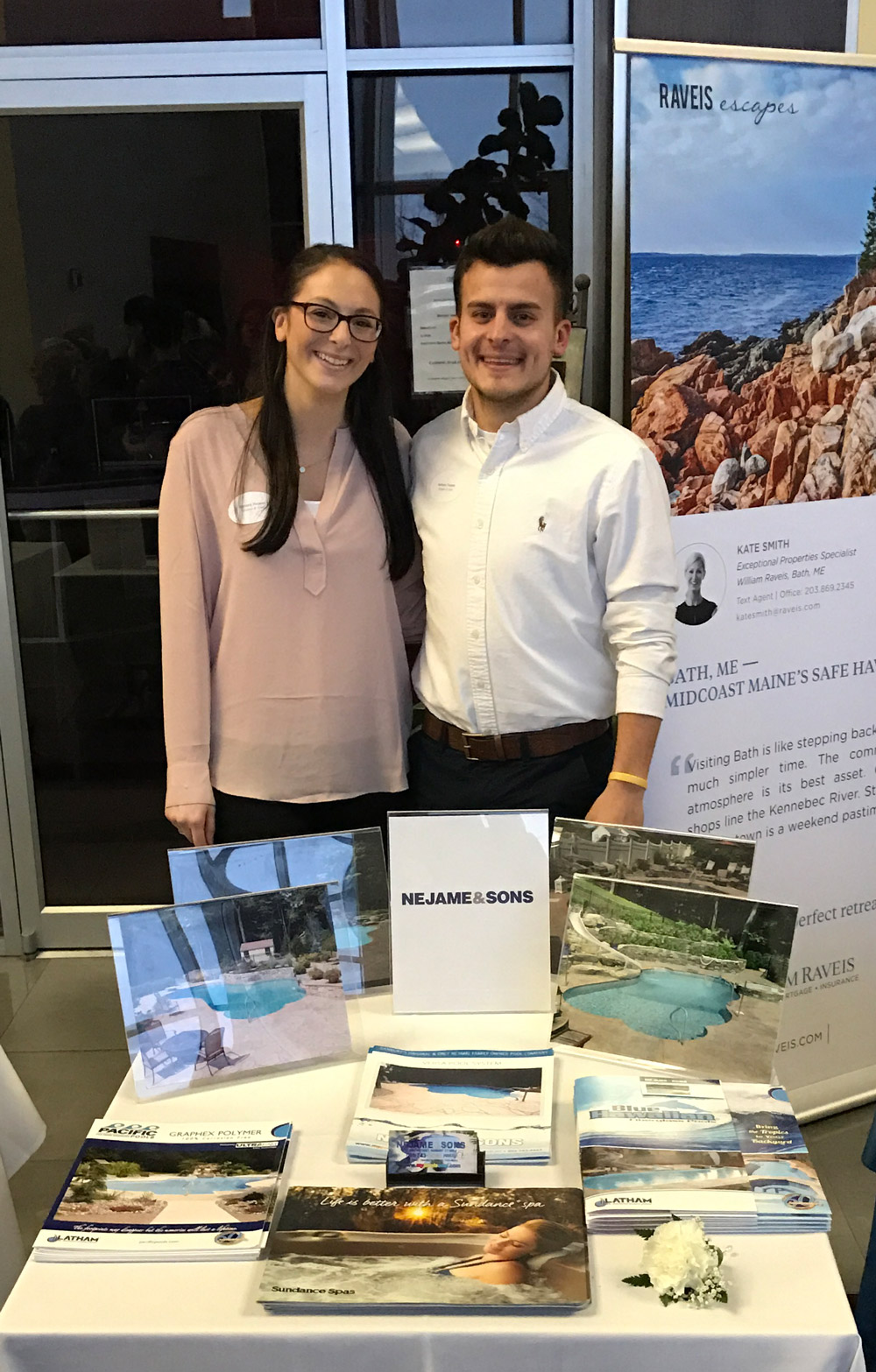 ---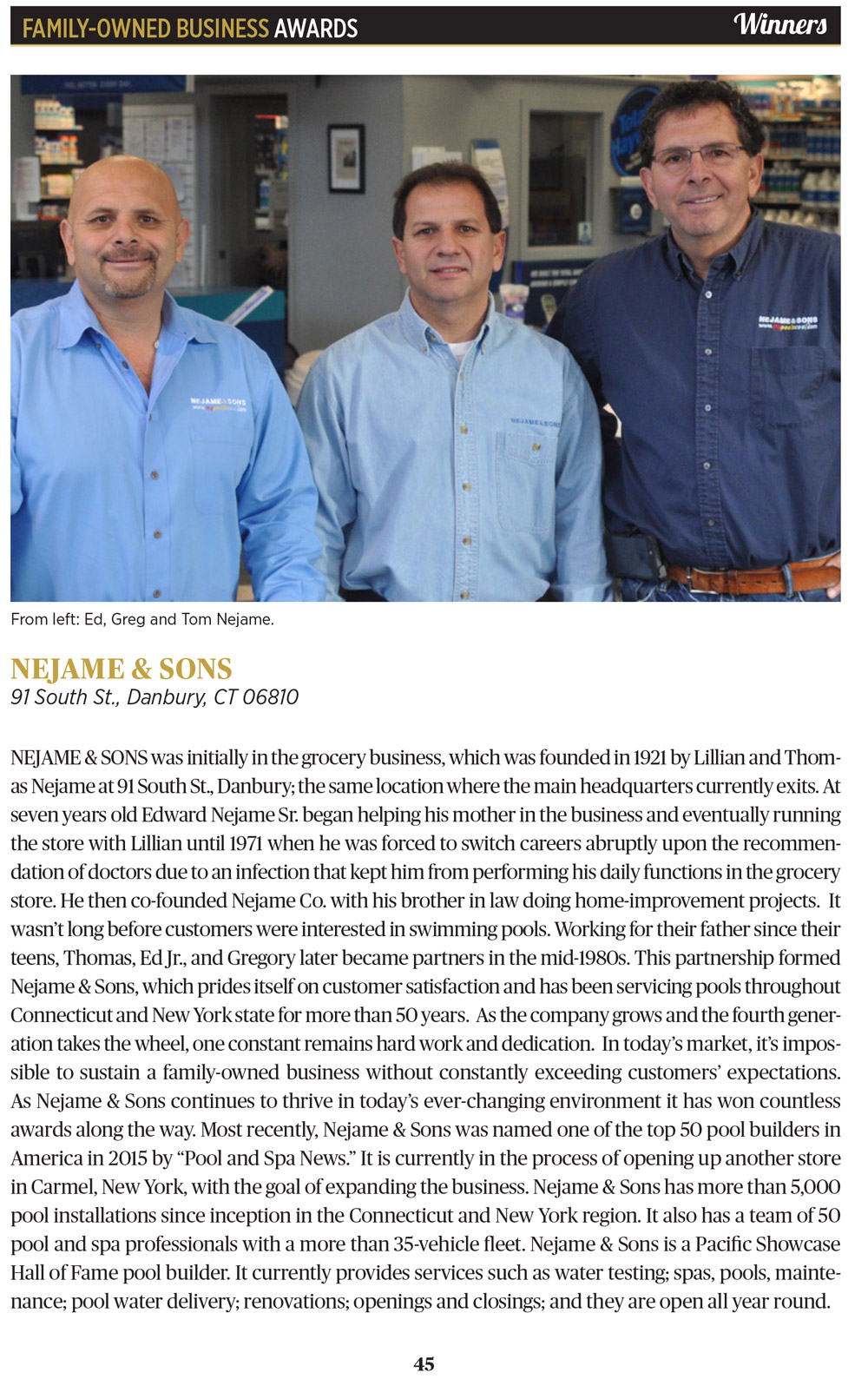 ---